Love As Militarism. Premiere Soon
30 may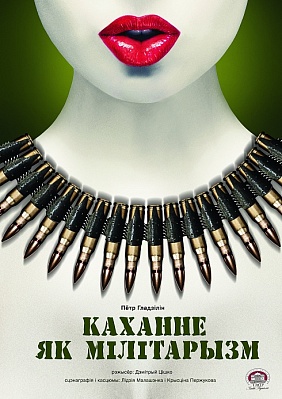 The new production Love As Militarism after the play by Russian playwright Petr Gladilin will soon be premiered in the Janka Kupała National Theatre. The production is directed by Dzmitryj Ciško. The premiere will be held on May 30 and 31.




The production will be performed at the Chamber stage, the new theatre venue that was open this season and entrusted to young theatre directors, students of the Belarusian State Academy of Arts tutored by Mikałaj Pinihin.
In December 2015
Antigone
by Jean Anouilh, directed by
Mikałaj Kapulcevič
, was staged there; in March 2016
Šabany
were directed by
Alena Hanum
after the same-titled novel by
Alhierd Bacharevič
; now
Dzmitryj Ciško
selected
Love As Militarism
, written by
Petr Gladilin
first as a script and re-written as a play at the request of Oleg Tabakov, as his diploma production.
Love As Militarism
is a story of turbulent relationships between three generations of a family: grandmother fights with her husband, their daughters fight theirs, and their granddaughter fights with her boyfriend.
The play was translated by
Maryna Kazłoŭskaja
. Sets and costumes were created by
Lidzija Małašanka
, and
Kryścina Pieržukova
. Music was written by
Pavieł Zacharanka
. Art director of the production is
Mikałaj Pinihin
.
The cast involves Sviatłana Anikiej, Zoja Biełachvoscik, Aleh Harbuz, Hienadź Harbuk, Kryścina Drobyš, Alaksandr Zielanko, Zinaida Zubkova, Sviatłana Kažamiakina, Dyjana Kaminskaja, Maksim Karaścialoŭ, Mikałaj Kiryčenka, Jaŭhienija Kulbačnaja, Hieorhij Malaŭski, Juljana Michnievič, Dźmitryj Tumas, Alaksandr Padabied, Julija Špileŭskaja, Kaciaryna Javorskaja.