Pinsk Gentry (12+)
Vincent Dunin-Marcinkievič
a farce vaudeville in one act
| | |
| --- | --- |
| Director | Mikałaj Pinihin |
| Set design | Volha Mackievič |
| Composer | Andrej Zubryč |
| Choreographer | Ludmiła Fadziejeva |
| History consultant | Jazep Januškievič |
| English translation | Vera Rich |
Premiere – May 25th, 2008
Duration – 100 min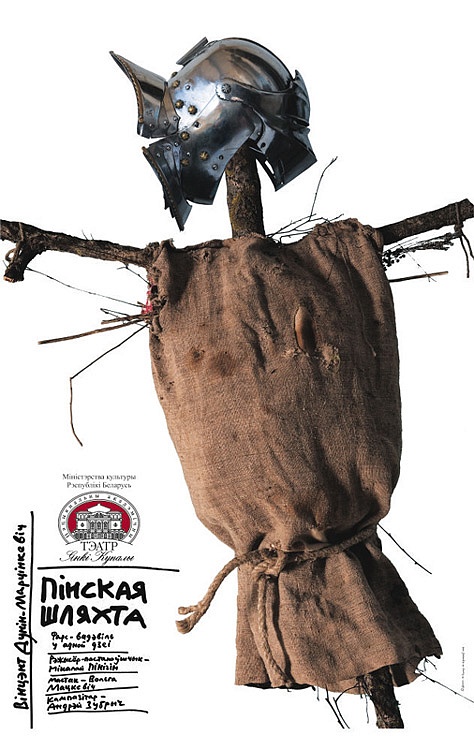 In the sticks of Pinsk district, life is always the same for local gentry men. They run their simple household, foster their pride, and fight with anyone who dares to think or say they are "peasants". But everything changes when Kručkoŭ, a crowner, comes to intervene. After his arrival, the action turns into a whirlwind which no one can evade; and while the dumbfounded gentry is watching the Highest Crown settling their dispute and fleecing them of all their money at the same time, packages of loot are floating away in a squeaky cart. The satire on the Belarusian gentry and tsarist officials is as urgent now as it was in the middle of the 19th century.
Winner of the State Prize of the Republic of Belarus (2013), PANORAMA Minsk International Theatre Festival (2009), The M.@rt ContactInternational Theater Festival (Belarus, 2010), Ushakoŭ Prize for scenography (Volha Mackievič) 
The play is performed in Belarusian. Simultaneous English or Russian translation may also be available at the performances marked with the special sign in the bill. Please, check in advance if translation is provided at the show you would like to visit and the language of translation available at the show.
The Janka Kupała National Theatre thanks the trustees of the Francis Skaryna Belarusian Library and Museum in London for their kind permission to use the English translation by Vera Rich of Dunin-Marcynkevič's Pinsk Gentry.