The Government Inspector (16+)
Nikolai Gogol
a comedy
| | |
| --- | --- |
| Director | Mikałaj Pinihin |
| Set design and costumes | Marijus Jacovskis |
| Score | Andrej Zubryč |
| Translation | Maryja Puškina |
| Assistant director | Dźmitryj Ciško |
Premiere – January 27, 2018
Duration – 170 min with an interval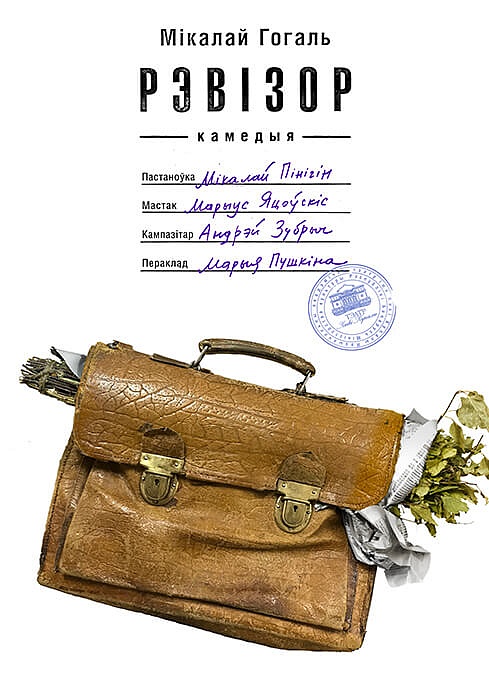 The life of an ordinary little town is stirred up by the rumours that a mysterious Government Inspector will soon come from the capital. Nervous officials are frantically trying to hide the evidence of their crimes and misuse. The Governor drills the local authorities and subordinate officials; the Charity Commissioner is busy with throwing patients out of the infirmary; the Inspector of Schools improves school performance reports through sheer force of his will; the Judge is obsessed with hiding embezzlement and bribes at his department. Will these swindlers escape their fate?
Winner of the Fifth National Theatre Prize (2018) in three nominations: Best Dramatic Production, Best Director of a Dramatic Production (Mikałaj Pinihin), and Best Actor in a Dramatic Production (Viktar Manajeŭ for his role of the Governor).
The play is performed in Belarusian. Simultaneous English translation may also be available at the performances marked with the special sign in the bill. Please, check in advance if translation is provided at the show you would like to visit.
Cast:
Cleaning woman

Śvistunoŭ

Vuchaviortaŭ

Waiter

1st Market woman

2nd Market woman

3rd Market woman

Street-cleaners

Traditional music band

Musicians