Warning: reset() expects parameter 1 to be array, null given in /home/kupalaus/public_html/local/templates/html_dev/components/bitrix/catalog/catalog/bitrix/catalog.element/.default/result_modifier.php on line 165

Warning: current() expects parameter 1 to be array, null given in /home/kupalaus/public_html/local/templates/html_dev/components/bitrix/catalog/catalog/bitrix/catalog.element/.default/result_modifier.php on line 166

A Midsummer Night's Dream (16+)
William Shakespeare Fairy songs
| | |
| --- | --- |
| Director | Andrei Prikotenko |
| Set design and costumes | Volha Šaišmiełašvili |
| Score | Ivan Kushnir |
| Choreographer | Dźmitryj Biazzubienka |
| Video content | Hleb Kufcieryn, Michaił Mićkoŭ |
| Lighting designer | Mikałaj Surkoŭ |
| Translation from English | Aleś Razanaŭ |
Premiere – September 7, 2018
Duration – 120 minutes without an interval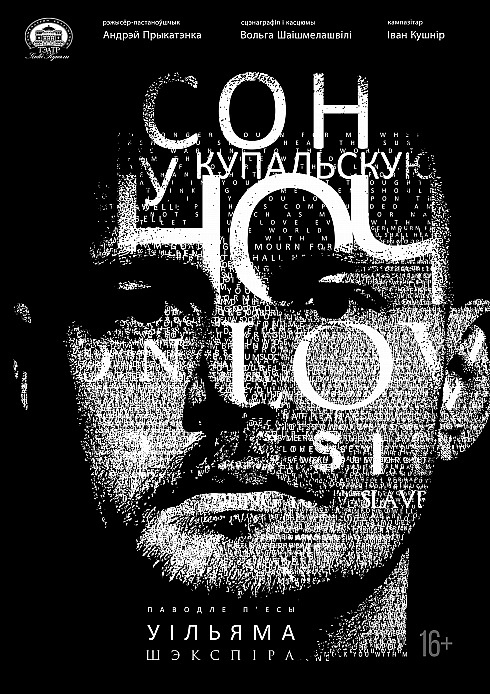 This production is based on the most lyrical and sensual part of the plot line of A Midsummer's Night Dream by William Shakespeare. It is a story of young Athenians who are trying to find and articulate their passion in a night forest. Everybody is in love here, and everybody is young, beautiful, and full of energy.
This production explores lyrical emotions in an attempt to dissect love and the variety of human feelings which accompany it. The mythic world of the play becomes a vivid show full of energetic music, lively movement, and beautiful, young bodies and voices. This is a mystery of one night when intense emotions are expressed not only with the help of acting but also with the help of various high-tech media devices and effects carefully combined to realize the director's vision. The configuration of the Main stage has been changed for this production to let the audience join the exploration of all the splendid variety of lovers' feelings.
Mind that you can buy the tickets on the day of the performance in the theatre box-offices only.