Two Souls (16+)
Maksim Harecki
scenes in two acts
| | |
| --- | --- |
| Director | Mikałaj Pinihin |
| Set design and costumes | Barys Hierłavan |
| Composer | Andrej Zubryč |
| Choreographer | Natalla Karčeŭskaja |
| Stage adaptation | Uładzisłaŭ Achromienka, Maksim Klimkovič |
| Video content | Siarhiej Tarasiuk |
Premiere – April 26th, 2016
Duration – 150 min
Simultaneous translation in English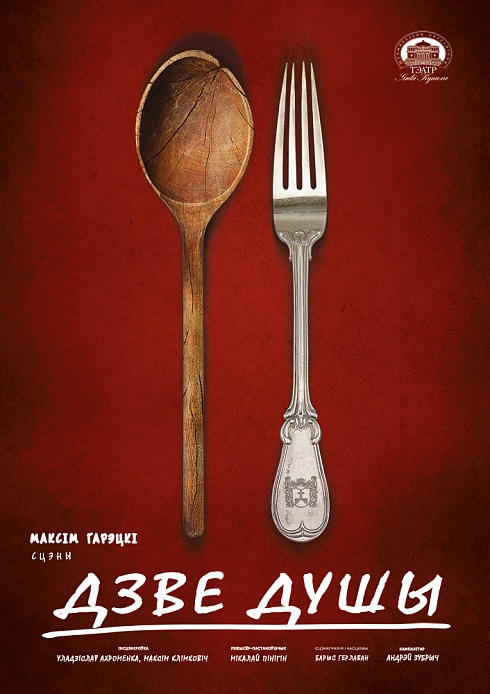 Two Souls is the first stage adaptation of the same-titled classic novel by Maksim Harecki. Peasant and landlord boys who had been interchanged in their cradles, political villains, girls in love, activists of the Belarusian Revival; all of them are trapped into the relentless turmoil of World War I, bloody dissolution of the Russian Empire, and early years of the Soviet Union. Two Souls is the story of an internal conflict of Ihnat Abdzirałovič, a Belarusian intellectual who is able to reflect on the complicated nature of the age and his role in it, to strive for "the clarity of view on things ever unclear".

The play is performed in Belarusian.
Simultanious translation
in English or Russian may also be available. Check What's On for the language of translation available at the performance. The service is chargeable. You may pay for it before the show.
Cast:
Austrian soldier

Abšarpanik

Photographer

Russian soldier, Red Army Soldier

Police officer

Coachman, Peasant

Head of the Committee of Poor Peasants

Peasants

Landlords

Soldiers

Red Army Soldiers

Soldiers' Wives

Orchestra