A Midsummer Night's Dream: Premiere!
10 september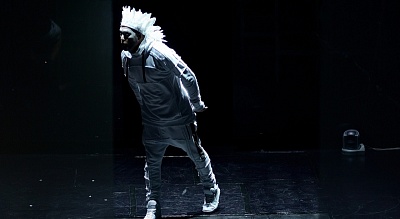 On September 7 a new production was premiered at the Janka Kupała Theatre, A Midsummer Night's Dream by William Shakespeare. It was directed by a Russian director Andrei Prikotenko.
He defined the genre of the new show as fairy songs because the score is as important as the text of the famous play. Andrei Prikotenko took the most lyrical and sensual parts of the comedy, beautifully translated by Aleś Razanaŭ, and fused them with rap music and hi-tech stage design. The mythic world of the play becomes a vivid show full of energetic music, lively movement, and beautiful, young bodies and voices.
The production was staged with the help of a number of invited guests from Russia: the score was composed by Ivan Kushnir and set design and costumes were designed by Volha Šaišmiełašvili. The video content was created by Hleb Kufcieryn, Michaił Mićkoŭ, and the light design was created by Mikałaj Surkoŭ.
The cast of the new production includes Julija Špileŭskaja, Marta Hołubieva, Valancina Harcujeva, Alaksandr Kazeła, Pavieł Astravuсh, Michaił Zuj, Pavieł Charłančuk-Južakoŭ, Andrej Drobyš, Dźmitry Tumas, Dźmitry Jesianievič, Ivan Kušniaruk, Pavieł Paŭluć, Alaksandr Zielanko.