Anniversary Week of Hienadź Aŭsiańnikaŭ
10 february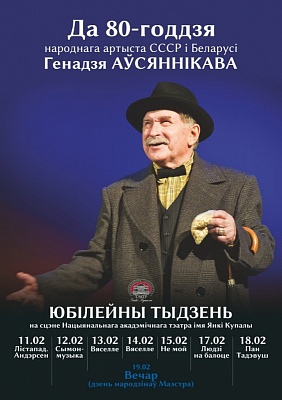 Hienadź Aŭsiańnikaŭ, a People's Artist of the USSR and Belarus, will spend the whole week before his 80th anniversary playing on stage of the Janka Kupała Theatre.


February 11th through 19th, you will have a chance to watch him playing Paškievič (
November.Andersen
by Alena Papova), Old Kuryła (
Symon the Musician
by Jakub Kołas), the general Ravunoŭ-Karavułaŭ
(The Wedding
by Anton Chekhov), Kučera (
Not Mine
by Aleś Adamovič), Hłušak (
The People of the Marsh
by Ivan Mielež), The Judge (
Pan Tadeusz
by Adam Mickiewicz), and Vasil (
The Evening
by Alaksiej Dudaraŭ). He will accept congratulations from the audience, collegues, and friends on his birthday, February, 19th, after
The Evening
is performed
.