En souvenir de Chagall: Premiere in Progress
02 march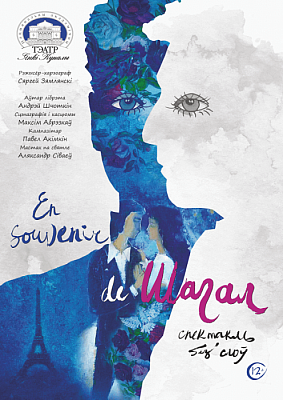 The story of life and work of one of the most famous painters of the XX century, a native of Belarus, Marc Chagall, will be presented at the Janka Kupała National Theatre. 
The new production En souvenir de Chagall will be directed by Russian director Sergey Zemlianskiy. The opening performances will  be performed on 14 and 15 of March; the next shows will be performed on 26 and 27 March.
Marc Chagall is one of the most outstanding and remarkable avant-gardist painters of the first half of the XX century. He never forgot about his native Viciebsk as it had given him precious childhood recollections he would transform into his paintings and the love of his life, beautiful Bella. The new production is a free interpretation of the first period of his life and work, from his birth in Viciebsk to Bella's death.
The premiere is created in collaboration with a Russian production team. The show is directed by Sergey Zemlyanskiy, Russian director and choreographer who has created more than 20 productions in Russia, Latvia, Israel; his next project will be directed in South Korea. The genre he works in is called 'wordless performance': the story is told by dramatic actors with the help of the body language, without any words.
Costumes and set design are designed by Maxim Obrezkov, the Honoured Scenographer of the Russian Federation, the principal scenographer of the Vakhtangov Theatre, twice nominated for the Golden Mask award. The set design he created for the production is based on his paintings alluding to images from Marc Chagall's works.
The libretto was written by Andrey Shchetkin. The score is composed by Pavel Akimkin. Lighting is designed by Aleksandr Sivaev, winner of the Golden Mask.
The part of Marc Chagall will be performed by Pavieł Charłančuk-Južakoŭ and Ivan Kušniaruk; the part of Bella will be played by Marta Hołubieva and Viktoryja Čaŭłytka. The cast alo includes Kaciaryna Alejnikava, Jeva Anikiej, Pavieł Astravuch, Hienadź Aŭsiańnikaŭ, Andrej Hradabojeŭ, Taćciana Dzianisava, Andrej Drobyš, Kryścina Drobyš, Antanina Dubatoŭka, Alaksandr Zielanko, Michaił Zuj, Dzijana Kaminskaja, Jaŭhienija Kulbačnaja, Juljana Michnievič, Nastaśsia Navickaja, Raman Padalaka, Pavieł Paŭluć, Ivan Trus, Siarhiej Čub, Iłaryja Šaško, Julija Špileŭskaja.