Janka Kupała Theatre Will Present World-wide Stream of Iconic Paŭlinka
24 march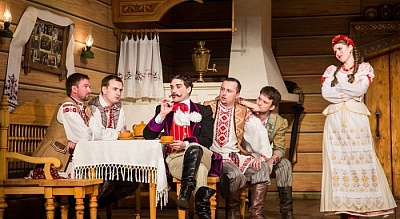 On 27 March, World Theatre Day, the Janka Kupała National Academic Theatre will present its iconic Paŭlinka around the globe for the first time. The worldwide stream will be carried out by the video service VOKA which will show live the most popular performance of Belarus around the world. This social project has been supported by A1, the general partner of the 100th season of the oldest theatre of the country.
Paŭlinka was produced by Leŭ Litvinaŭ in Tomsk, where the theatre had been evacuated to during the WWII, in 1944 and has been an integral part of the repertory ever since. Now it is the calling card of the Janka Kupała Theatre as this very performance unveils its every season for almost 80 years. In 2019 Paŭlinka was listed as a historical and cultural asset of Belarus.
During all these years almost twenty talented actresses featured in the performance as Paŭlinka, from Raisa Kašelnikava to Zoja Biełachvościk to Marta Hołubieva; the latter will play her on 27 March. The cast will also include such prominent actors as Maryja Zacharevič, Pavieł Charłančuk-Južakoŭ, Andrej Kavalčuk, Alena Sidarava, Mikałaj Kučyc, Natalla Kačatkova, Maryna Hardzijonak, Dźmitryj Tumas, and others.
Paŭlinka will be streamed live to give Belarusians, Belarusian diaspore, Belarusian nationals who, for various reasons, have to stay abroad, and all who are interested in Belarusian culture an opportunity to watch the world-class masterpiece of dramatic art.
The live stream of Paŭlinka will be accessible on 27 March either on voka.tv or in the mobile application VOKA on any device and through the network of any mobile operator of Belarus or any other country of the world even without prior authorization. The multi-cameral, high-quality artistic streaming will let every spectator be imbued with the aura of the theatre and see everything that happens on its stage from multiple angles. Russian surtitles will be available. The performance will start at 19:00.
Join our stream!