Our Jing Ke. Chinese theare tour in Minsk
16 october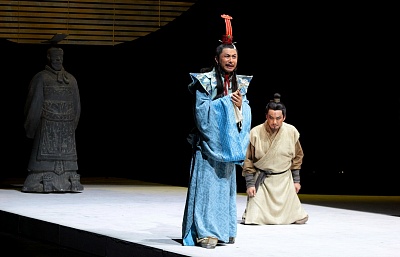 This week, the Janka Kupała National Theatre hosted the Beijing People's Art Theatre. It was the first Chinese dramatic theatre which performed in Belarus. Belarusian audience was introduced to the traditional Chinese culture with the historical drama Our Jing Ke. It was performed as a part of Days of Chinese Culture in Belarus.


"We want to introduce our country to the Belarusian audience with the help of star representatives of our culture," noted Ding Wei, the Deputy Minister of Culture of the People's Republic of China. "This year we invited the best Chinese theatre to Belarus; we hope that our artists have found common ground with the Belarusian audience."

According to Ren Ming, director and artistic director of the Beijing People's Art Theatre, the plot is based on the story of the legendary warrior and assassin Jing Ke whose name has been known to virtually every Chinese since the days of Ancient China. The play is written by Mo Yan, the first Chinese citizen who was awarded the Nobel prize in literature.

"Characters and facts are basically faithful to the historic ones, but I made a bold guess about the motivation behind the behaviour of the characters so the spectators would be able to draw parallels between the play and modern life and meditate about their own fate", explains the author.

The action takes place in 236-227 years BC, the period of acute struggle between different kingdoms of the yet-to-be-сreated China empire. Prince of Yan sends Jing Ke to kill the King of Qin, the ruler of the strongest state, but the assassin is killed. The name of Jing Ke has become a symbol of bravery and readiness to sacrifice one's life for the struggle with the enemy.

Traditional Chinese costumes, Eastern music played with folk instruments, movements of artists taken from different martial arts, Chinese direction and dramatic art; all of it was exotic to Belarusian audience. But, at least, it is familiar to them now.