Pavel Latushka Has Been Appointed as General Director of Janka Kupała Theatre
06 march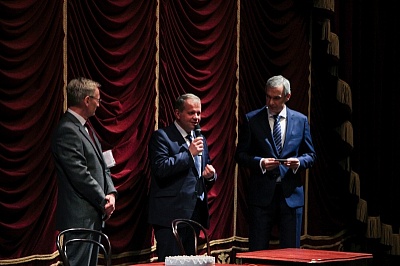 The newly appointed general director met the theatre staff on March 6.
Pavel Latushka was born in Minsk on February 1973. He graduated from the law department of the Belarusian State University in 1995 and the entrepreneurship department of the Minsk State Linguistic University. The list of his previous positions includes Minister of Culture of the Republic of Belarus, Ambassador Extraordinary and Plenipotentiary of the Republic of Belarus to Poland, France, Spain, Portugal, Monaco, and Permanent Representative to the UNESCO and the UNWTO.
The Minister of Culture Jury Bondar underlined that Pavel Latushka together with Mikałaj Pinihin had taken part in the working out of the new approach to the development of the Janka Kupała National Academic Theatre which was successfully realized, as the theatre is now the leading theatre in Belarus and the theatre staff keeps promoting Belarus dramatic art, history, and culture.
"It is a great privilege and responsibility to work at one of the leading cultural institutions of Belarus, to build up on the present foundation, to preserve traditions of the Belarusian theatre art and enlarge its space. I hope we all together will do a lot to enrich our legacy, culture, and drama art of our country. I have come back on the new path", commented Pavel Latushko.