Tolerance after God of Carnage: Premiere!
27 april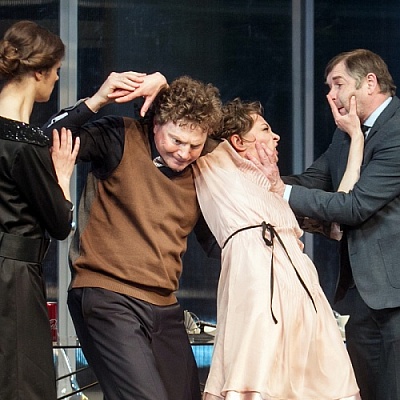 On April 27 and 28 the Janka Kupała National Theatre premiered Tolerance after the play God of Carnage by the prominent French playwright Yasmina Reza.
The production was designed and created by outstanding experts, as the set design was designed by 
Rusłan Vaškievič
, the author of the sets and props for
The School for Taxpayers
, and costume design was based on the drawings by 
Alona Ihruša.
The name of the well-known play was changed by 
Mikałaj Pinihin
 so that it wouldn't have an unnecessary ring of World War II for the Belarusian audience. Quite the contrary, the action takes place in modern France, in a Parisian flat where two couples meet to discuss their actions after their kids had a fight.
Yasmina Reza
uses such an ordinary situation to build up a plot which devolves or rather devolves into a darkly comical and revealing chaos which puts on display the real essence of the characters and subtly exposes their traits and complexes hidden behind assumed tolerance and goodwill.
According to Mikałaj Pinihin, the action of the play is not limited to the flat it takes place in and concerns tolerance in a broader context: "It's not a Belarusian play, it has no context which would be obvious to us and nothing about the Belarusian tolerance. It is quite a peculiar thing. Belarusians have to be tolerant because they live between East and West, amid endless wars they could perish in. We had to become tolerant in the religious sense of the term, in the ethnic sense of the term, in the human sense of the term. It is a kind of zen: to escape a fight instead of engaging in it. But in the Yasmina Reza's play, I saw deeper meanings, issues of humanity that concern us all."
The cast includes Jaŭhienija Kulbačnaja, Alaksandr Zielanko, Śviatłana Anikiej, Viktoryja Čaŭłytka, Alaksandr Paŭłaŭ, Maryna Hardzijonak, Aleh Harbuz, Siarhiej Čub, Kaciaryna Alejnikava, Pavieł Astravuсh, Maksim Karaścialoŭ, Kaciaryna Javorskaja. 
You can buy tickets for May and June performances on our website.
The photos are by Pavieł Marcinčyk.