The Government Inspector: Premiere Is Soon
06 december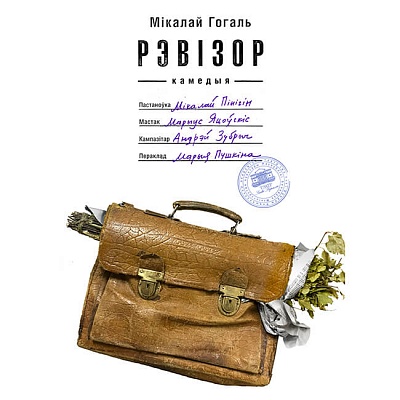 After The Government Inspector was premiered at the Alexandrinsky Theatre on April 19, 1836, Tsar Nicholas I remarked: "Quite a play! Everyone gets it, and I most of all." 
The classic Nikolai Gogol's play will be staged at the Janka Kupała National Theatre by the artistic director, Mikałaj Pinihin. The last time the theatre presented the famous masterpiece, it was directed by Valeryj Rajeŭski.
The universal and timeless plot can be easily adapted to any epoch or culture, so the sequence of events stays all the same:
The life of an ordinary little town is stirred up by the rumours that a mysterious Government Inspector will soon come from the capital to interfere into local affairs. Nervous officials are frantically trying to hide the evidence of their crimes and misuse. Governor (Viktar Manajeŭ, Vital Makarevič) drills the local authorities and subordinate officials; Charity Commissioner (Dźmitryj Jesianievič, Alaksandr Zielanko) is busy with throwing patients out of the infirmary; Director of Schools (Raman Padalaka, Alaksandr Paŭłaŭ) improves school performance reports through sheer force of his will; Judge (Ihar Dzianisaŭ, Ihar Sihoŭ) is obsessed with hiding embezzlement, blatant misuse of power, and bribes at his department. Will these swindlers escape their fate? The part of Khlestakov will be played by Alaksandr Kazieła and Pavieł Charłančuk-Južakoŭ.
The set design was designed by Marijus Jacovskis, already acclaimed for the scenography he had designed for The Seagull by Anton Chekhov. The musical score was composed by Andrej Zubryč. Assistant director is Dźmitryj Ciško. A new translation which consists partly of Belarusian and partly of Trasianka, a vernacular mix of Belarusian and Russian, was made specifically for this production. 
The cast includes Viktar Manajeŭ, Vital Makarevič, Zoja Biełachvościk, Juljana Michnievič, Dzijana Kaminskaja, Kaciaryna Alejnikava, Raman Padalaka, Alaksandr Paŭłaŭ, Ihar Dzianisaŭ, Ihar Sihoŭ, Alaksandr Zielanko, Dźmitryj Jesianievič, Michaił Zuj, Ivan Kušniaruk, Ihar Piatroŭ, Siarhiej Čub, Mikałaj Rabyčyn, Andrej Drobyš, Alaksandr Kazieła, Pavieł Charłančuk-Južakoŭ, Mikałaj Kučyc, Andrej Kavalčuk, Viačasłaŭ Paŭluć, Maksim Karaścialoŭ, Dźmitryj Tumas, Pavieł Astravuch, Alena Sidarava, Volha Niafiodava, Viktoryja Čaŭłytka, Kaciaryna Javorskaja, Maryna Hardzijonak, Śviatłana Kažamiakina, Taćciana Dzianisava, as well as theatre musicians Hienadź Višniakoŭ, Kirył Zmuško, Andrej Saponienka, and Andrej Sienaženski.