Theatre Week at Janka Kupała Theatre
15 march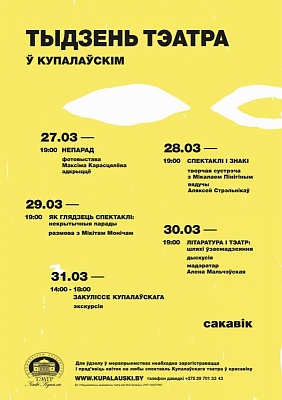 We are happy to announce that this year the Janka Kupała Theatre is going to celebrate the World Theatre Day with a whole week of special events!
The festive week will include a wide range of events from a lecture to a discussion to a photo exhibition. All these events will take place at the theatre building March 27 through 31.
March 27
: 
"Nieparad" ("Informal")
: an exhibition of the theatre company and backstage photos by Maksim Karaścialoŭ, an artist of the theatre company and a photographer.
.
March 30
: 
"Theatre and Literature: Ways of Interaction"
: 
a discussion featuring an actor of theatre and a theatre director  Raman Padalaka, a theatre director Alena Hanum, a writer Alhierd Bacharevič, theatre and literature critics Alaksiej Strelnikaŭ, Tania Arcimovič, and Iryna Šaŭlakova-Barzienka, a historian, writer, and the head of the Literature department of the theatre Volha Babkova, together with actors Michaił Zuj and Dźmitryj Jesianievič; the event will be moderated by the theatre critic Alena Malčeŭskaja.
We are glad to invite all of the numerous theatre lovers and admirers to these events so we would spend the last days of the not-so-short winter having warm and interesting conversations in our theatre.
If you want to take part in any event, please click on the respective link and enter your first name, your second name, your phone number, and your email respectively in the registration form. Mind that you would also need to buy and show the ushers a ticket to any performance of the theatre scheduled for April in order to enter any of these events.