Barys Hierłavan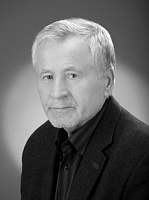 Principal Designer
A holder of the title Honoured Artist of Belarus (1977)
A holder of the title People's Artist of Belarus (1990)
A laureate of the State Award of the USSR
A laureate of the State Award of Belarus
A laureate of Eŭscihnei Mirovič Award
A laureate of the Crystal Paŭlinka Award
A laureate of the Special Award of the President of the Republic of Belarus for contribution to youth education (2004)
A holder of Francisk Skaryna medal (2008)
Barys Hierłavan was born in the village of Martanosha, Kirovograd region in Ukraine on December 25, 1937. In 1966 he graduated from the Belarusian Theatre Institute majoring in scenography (the class of J. Čamaduraŭ, P. Masleńnikaŭ).
Since 1962 he has been working at the Janka Kupała National Academic Theatre. During this period he designed scenography for more than 70 plays. He also designed scenography for other theatres both in Belarus and abroad.
Barys Hierłavan has won numerous prizes for his scenography which often becomes one of the key parts of the performance. His contribution lead to success of such plays as The Tempest by William Shakespear, The Ravaged Nest by Janka Kupała, Gates of Immortality by Kandrat Krapiva, Intimidated Apostle, Take the Pill, and Holy Simplicity by Andrei Makayonak, Last Chance by Vasil Bykaŭ, St. Aŭdziej Passion by Uładzimir Butramiejeŭ, which became the hallmarks of Belarusian theatre.
The last decade of XX and the beginning of the new millennium became for Barys Hierłavan a festive journey to our legendary past. The famous scenographer became interested in aestheticization of Belarusian history and creation of the national pantheon. The new style was developed in Prince Vitaŭt and The Black Lady of Niaśviž by Alaksiej Dudaraŭ, and later used in Erick XIV by August Strindberg.
Barys Hierłavan is an epoch in the history of arts. His name has become a symbol of the Janka Kupała National Academic Theatre and a quality mark for any production. He raises also a new generation of set designers at the Academy of Arts, where he has been reading lecturers since 1991. In 1998 he got a Ph.D. 
Plays
in the playbill
with Barys Hierłavan scenography: