Uładzimir Kurjan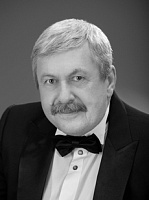 Head of the Musical Department
A holder of the title of the Honoured Art Worker of the Crimean Autonomous Republic (1999)
A laureate of the State Award of Belarus (1994)
Uładzimir Kurjan was born in Minsk on March 25, 1954. In 1984 he graduated from Belarusian State Conservatoire and started working as the Head of Musical Department at the Janka Kupała National Academic Theatre.
He wrote musical scores for The Locals by Janka Kupała, Death of Tarelkin by Alexander Suhov-Kobylin, Idyl by Vincent Dunin-Marcinkievič, Dwarf Long-Nose by Wilhelm Hauf, Don Juan by Jean-Baptist Moliere, and lots of other productions.
In addition to music for the theatre, Uładzimir Kurjan has revealed his talent creating two operas, poems for symphonic and folk orchestras, choir and chamber music works.